I sat with my back to the door, arms and knees to my chest, hands covered in kitty litter dust. Toe throbbing. Knee burning. Face red. Minky's soft, hungry meow coming through the door. Next to me sat my near 2 and a half-year-old Sienna smiling proudly, impishly. And why not? She did something that a student of media had to appreciate. She succeeded in creating a living sitcom. For you see, the door we sat against led to the inside of our apartment. We sat in the hall facing the elevator. And I was dressed in nothing but my frog-printed boxers.
Five seconds. That's all it took for Sienna to create this hackneyed yet utterly embarrassing situation. I'd just finished cleaning the cat litter and stepped outside in my boxers like I've done hundreds of times before because the garbage chute stands 3 feet away from our apartment door. I threw away the garbage and suddenly heard a soft creaking. For a split second my heart stopped and then I reacted. I twisted around, slipped, bent my left big toe sharply backwards while falling, skinned my knee on the rug and reached the door just as Sienna closed it and locked us out. At first one thing zoomed through my mind: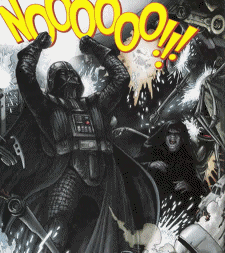 But then I sat there half naked with my toe throbbing and me knee burning and my daughter smiling not realizing what she'd done and I thought of all the sitcoms where a character's towel gets caught in the door and they get locked out of their house or apartment, naked, flailing, and all I could do was add to the canned laughter.
I also realized how glad I was that I decided to change the cat litter later than usual because we only had 30-40 minutes until Elaine came home as opposed to the hours we'd normally have to wait. Plus I felt thankful that BOTH of us were outside instead of Sienna locking me out and her in. Ugh. Could you imagine?
What to do? I suggested Sienna run up and down the hall while we waited for Elaine and/or I thought of a way out of our predicament. Thrilled, Sienna obliged except she looked back at me with a sunny grin rather look ahead and thus she smashed into a hall corner leading to tears, wails and cries to go back "outside." I couldn't stop laughing, not at her pain but at how ridiculous everything was, at how it kept escalating into further ludicrousness. I didn't want to hold Sienna with my hands because they were covered in kitty litter dust so I held in my forearms and calmed her by telling her to listen to Minky's meows through the door. I always feed the cats after changing their litter so poor Minky wanted his food as his meows were so pathetic and sad and funny because of the inches of door separating us. Meanwhile my toe began to turn black and blue. I couldn't bend it downward without causing sharp pain. Here's a pic I took later: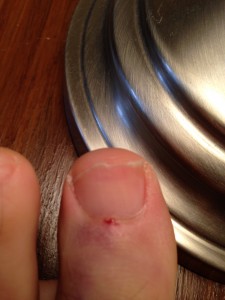 Believe me, the toe looked worse the next day. Now it's taped and immobilized. But back to the hallway.
Sienna stopped crying after five or ten minutes. I thought of my options:
1) Sit and wait for Elaine
2) Knock on a neighbor's door to ask if I could use their phone to call my parents so they could use their key to let us in (plus I could wash my hands)
3) Knock on Fae's door (Fae serves on the building's board and I thought she could somehow secure a key. I knew our super was on vacation so I didn't see the point on taking the elevator down to the lobby while in my boxers to knock on his door…and there was no guarantee Sienna'd stay still. She could take off leading to a seriously embarrassing chase through the lobby and ground floor. Problem was I didn't quite want Fae to see me half naked and looking like an idiot)
I wanted to just wait for Elaine, but then decided to go with 3. I asked Sienna to knock on Fae's door and miraculously she did so…a few times. No answer. I think I was too ashamed to do it myself even though I was laughing at myself. Somehow my realization that I was living a funny cliché combined with the knowledge that Elaine would be home soon helped stave off an anxiety attack. But still I'd rather not let anyone see me in boxers.
So we sat watching the elevator go up and down hoping it'd land on 4, the doors would open and my wife would do a double take. And then it happened. The doors opened and there was the double take…except it was 2 young women who live down the hall. Oh boy. I covered myself as best as I could. And at that point I didn't care if Fae saw me in my underwear. We had to get back inside.
"Hi!" I said. They averted their eyes and almost ran to their apartment. "Umm…can you do me a favor and knock and that last apartment door and see if Fae's home? This little one here locked us out."
"Ok," said one of them. They knocked, Fae opened her door and saw me sitting on the floor half-naked with Sienna standing next to me.
"Hey Fae!" I waved. She was dressed for bed. "Umm, Sienna locked us out and John's on vacation. Is there any way you can get a key to our apartment?"
"I heard knocking," Fae said laughing, "But I figured Sienna was just playing. Give me a sec. John's back home. I'll go downstairs and get the key."
She ducked back inside as the 2 young women waved goodbye. Within a minute she came back out in jeans. I related the story to Fae and she belly-laughed.
"Don't you unlock the doorknob when you step out?"
"Nope. Only when I do the laundry, but you can bet I'll be doing it from now on."
"Ok," Fae said. She smiled. "Sienna, you want to come with me in the elevator?" Sienna did. She took Fae's hand and I shook my head at our predicament as I watched the elevator door close.
Great. Now John gets to see me in my boxers. Except he didn't because apparently he had no extra key for our apartment. Everyone else yes, but us no! What next?
Fae invited us to wait for Elaine in her apartment. I graciously excepted, keeping my arms crossed on my chest the whole time (still a behavioral remnant from my years of suffering gynecomastia). I washed my hands. Sienna started at the TV. Then Fae brought out a box shaped like a treasure chest on which Snow White, Cinderella and Sleeping Beauty's faces were imprinted.
"I've been meaning to give this to Sienna. Princess dresses!" Fae exclaimed.
Sienna jumped up and down as Fae ripped open the box.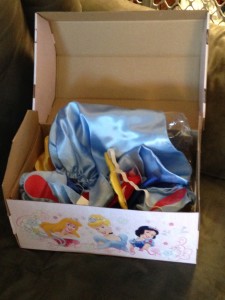 Sienna grabbed a pink skirt.
"Put ON!" she demanded. "Put ON!"
Fae helped Sienna into the skirt as the elevator doors dinged and Elaine stepped out.
"HI!" I called out and there was the double take. The real one. The one that read what the hell's going on?
I relayed the whole adventure as Elaine cracked up, Fae laughed and Sienna swished about in her new princess dress. Then finally we thanked Fae and Elaine opened our apartment door. I limped inside and sat down. Sienna being Sienna ran about the apartment as Elaine checked out my toe. Years ago I ruptured the tendon in my right big toe after I slipped in the shower the same day we had to drive to Vermont. Now that was a painful trip (Elaine doesn't drive). Elaine was worried that I'd ruptured my other tendon and she wanted me off my feet because next week we're heading to Utah and Bryce Canyon meaning a bit of hiking. After examining me, she decided it was a sprain and she wrapped ice around my toe and sent me to bed. I took a pic of Sienna dressed as mixed princesses before I left.
She fed the poor hungry cats and got Sienna ready for bed. Then she brought Sienna in to say goodnight and to make sure my foot was properly elevated.
Sienna watched quietly as Elaine adjusted the pillow beneath my foot and fixed my blanket. And then she did one of the sweetest things I've ever seen. She did something that made my heart nearly explode with pride and nearly set Elaine's eyes to tearing.
Sienna gave me her precious scarf.
"Daddy's scarf," she said, her voice sweet like cotton candy.
Then she took her cherished white blanket and covered me with it, carefully adjusting it just as Elaine had fixed our normal blanket.
"Daddy's blanket, she said. Daddy has a boo-boo."
"Thank you, Sienna," I said, a smile on my face, amazement, joy, pride flowing through me. Elaine stood near crying.
Then she said kissed and hugged me goodnight and I said it was ok to take her blanket and scarf which she grabbed hungrily.
But it was worth it. All of the embarrassment. The three women seeing me half naked. The sprained toe. The rug burns on my knees. The sitcom brought to life. Everything was worth it to witness my daughter give me her most treasured items because Daddy was hurting. My love for her grew exponentially if that's even possible.
I'm so proud of her. So proud.
And lesson learned. Never again will I leave the apartment to throw something in recycling or the garbage chute without unlocking the doorknob.
I can't wait to see what sitcom plot we act out next. Hopefully I stay fully clothed for it.