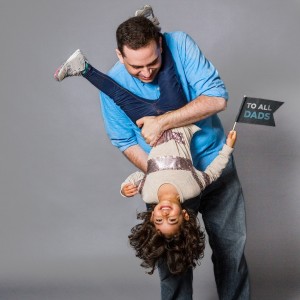 What do you see when you look at this picture?
Do you see love? Beauty? Joy? Fatherhood? Childhood? Family? Fun?
I don't know what I see anymore.
At first look I felt a rush of excitement and pride at the capture of a wonderful moment between me and my daughter. I couldn't wait to share it with my family and friends. I remembered how enjoyable the shoot was: Sienna doing anything asked of her; tickling Sienna while gorgeous sounds of her giggles echoed throughout the room; playing our special "Sharknado" game (in which I pretend my hands are sharks while Sienna squeals in delight) in front of total strangers. She was so beautiful and happy that day. You can see it in her face. And I loved it every bit as much as she did. And I loved the photo. I even marveled at how they made it look like I'm not balding.
Then all of that joy was ripped from my heart and my soul crumpled like a tin can beneath someone's foot. I can't look at the picture without thinking of hatred, darkness hiding behind keyboards and computer screens, disgusting images and words. The comments. The comments crushed me into near oblivion.
The photo appeared on Instagram as part of Dove Men+Care's "First Fatherhood Moments" campaign – a collection of shots of dads with their children that captured a moment of pure jubilance between a dad and his kid(s). To the right of our picture stood a quote: "Having kids teaches you to use your imagination again. Learn to see the world through their eyes – in every first discovery and experience." – Lorne J. Care Makes Dad Stronger
And below that were the vicious, revolting attacks. Some complained simply because they didn't want ads in their Instagram feeds and I get that, but you have to accept ads if you want free services. Others focused on race, how there's no possible way Sienna could be my kid because she's darker than I am. That's pure ignorance and saddened me for the most part. But then there were the utterly vile, obscenity-laden, pornographic words about Sienna and I – things I planned to do to her sexually because of the tilt of my head and Sienna's positioning – some directed specifically at my 3-year-old little girl. It was those odious, vulgar and downright nasty comments and their accompanying ghostly laughter that broke me – literally making me queasy and weak – and wrenched all sense of exultation from my body and my mind's perception of the image. Just like that beauty morphed into salaciousness.
Still I shared the image on Facebook accompanied by a warning about the comments and the words, "I feel sick." The response was overwhelmingly supportive and outraged. In the FB Dad Bloggers group, people remarked on the adorableness of the picture and offered the following advice:
"Never read comments. Never read comments. Never."
"Dark side of social gives cowards a sense of courage."
"F**k the trolls!"
"Ignore the nonsense. Some insignificant dbags on the Internet don't matter in the grander scale of life.  Some people are just out to be vile a-holes, it would have been on whatever picture they saw that day."
"You can't let idiots get you down. I know, easier said than done, but half of those comments are from kids thinking they're funny and the rest are just Internet bottom feeders. Anyone that takes the time to post hate on something beautiful has a lot of problems and you (and your daughter) are not one of them."
Some shared the Instagram link on their own pages. Others flooded the image's comment section with positivity.
I thanked them for having my back, but still I felt horrible. I took Sienna to a play place to try to get away from things, but despite doing my best, the juxtaposition of the picture and the awful comments left me uneasy and unsteady. Then I received a deeply apologetic e-mail from Dove Men+Care informing me they were pulling the photo to protect Sienna and I from even more illicit, repulsive remarks (and to disassociate the brand from such negativity, of course, which I completely understood). They wanted to make sure I didn't take it personally and noted people to contact in case I just needed to talk. Later in the day, I received a second e-mail from Dove Men+Care following up to make sure I was ok and again asking if I needed to talk to someone. I seriously doubt most corporations would act in a similar capacity and I thank Dove Men+Care for their, well, caring.
Still, the fact that they pulled the ad was like another punch in the gut even if I agreed with the move. I e-mailed my parents, sister, friends and therapist to tell them the picture was pulled and that I was upset. All told me that it wasn't my fault, that I did nothing wrong, that it wasn't a personal attack, that it's a special picture and I needed to ignore these horrid comments.
I reported back to the Dad Bloggers group that Dove Men+Care pulled the picture. Some reported the worst perpetrators to Instagram. Others tracked down their names, addresses and phone numbers. They all suspected the commentators were JHS/HS punks and some wanted to contact their parents. I'm not sure if they did, but I appreciated the support nonetheless. And then Mike Tremoulet of Spoon and Knife nailed it and put a lot of things in perspective:
"here's another angle: Play the numbers game a bit. Currently, there are 308 comments on the picture, according to my browser. A chunk of those are from dads like us who point out what a great picture this is. Another chunk are upset that Instagram is now inserting promoted pics/ads into their stream. That has nothing to do with your picture and everything to do with how Instagram works (and no, they're not the worst commenters).
I'm going to be conservative, on a quick scan, and say that half of the comments fall into those categories. That means, ballpark, about 150 comments we'll call nasty. (You can use your own adjective there.)

There's one other statistic you aren't as likely to see, so I'm going to put it in all caps here. THIRTY THREE AND A HALF **THOUSAND** PEOPLE LIKED YOUR PHOTO. Let me say that again. THIRTY THREE AND A HALF **THOUSAND**. These people didn't just see the photo, they STOPPED AND TOOK THE TIME TO DOUBLE-TAP, OR PRESS THE HEART, AND LIKE YOUR PHOTO. If I'm shouting, it's so that you hear this louder than the nasty commenters.

For comparison, I'm happy if any picture of mine gets more than 10 likes. 33.4 THOUSAND!"

That also means, if I round the numbers a bit and break out a calculator, LESS THAN HALF OF ONE PERCENT OF PEOPLE WHO SAW YOUR PHOTO HAD SOMETHING BAD TO SAY. **LESS THAN HALF OF ONE PERCENT!** I think it's a very safe bet that any celebrity or public figure on this planet would ABSOLUTELY DREAM of having numbers like that.

You want a meaningless (though admittedly not quite equal) comparison? Barack Obama has about a 46% approval rating now. Congress, a 19% approval rating. (Gallup, both). YOU HAVE A 99.6% APPROVAL RATING! SHOUT THAT FROM THE ROOFTOP! NINETY NINE POINT SIX PERCENT APPROVAL!

Lorne, congratulations!!! You've had a viral moment, complete with the good and the bad. I'm sorry it's had its rough parts, but I'm proud of you (and the picture is awesome, and your relationship with Sienna is inspiring.)

THIRTY THREE AND A HALF THOUSAND!!!"
As a person suffering from depression, this is the story of my life. I'm super-magnetically drawn to the negatives and usually am unable to see the positives or if I can, the awfulness, as little as it might be, overwhelms any sense of accomplishment or good. Mike's words opened my eyes to that and helped steady the ship.
So where does this leave me? Half of me wants to stare at the picture until my eyeballs pop out of my skull from exhaustion in order to take back agency and power. I've spent my entire life ceding all power to others, desperately needing everyone to like me, living my life for other people. Gradually, as the years go by, I've gotten better and stronger, but I'm nowhere near where I want to be. I still fear and expect judgment. I so want to be able to look at this perfectly captured image of Sienna and I and heed the advice of dad blogger Jayson Merryfield of
In The Moment Photography
"If you want to focus on the positive, just remember how this picture will be received by those who know and love you. No one is going to read the comments. No one will see the hate, the blind bigotry or just plain obscenity that some people feel permitted to spew onto the internet.

What they WILL see if this picture. More importantly, what your daughter will see is this picture. She'll see it today, and tomorrow, and in 15 years on her wedding day when it's a part of the slideshow (if anyone still does those in 15 years). Maybe you print it out and put it in her room in a little frame. Maybe you make it the wallpaper on your phone so she sees it now whenever she grabs it to play Angry Birds. 

What this picture represents is a complete, unadulterated good thing, and what the dozen or so vile commenters can't hide is the fact that 33,400+ people saw your picture, saw the joy in your daughters face and the connection that the two of you have, and they liked what they saw."
But can I? I still see the nefarious comments each time I look at the picture. Will that fade over time? How will I react the next time I'm faced with social media's terrible side? I hope it'll be with newly developed power.
Have you experienced the dark side of social media? I'd love to read your stories.