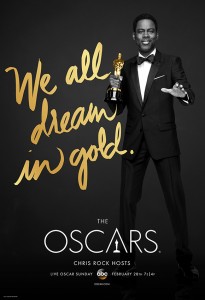 #OscarsArentJustBlackAndWhite
I know I'm a little late to the party as the Oscars were televised from La-La Land 4 days ago, but that's because I've been digesting the show and how I'm going to go about writing this little op-ed of a blog. I've decided not to focus or really mention Chris Rock's performance as host nor the jokes and bits that either soared or flopped. Instead I want to talk about what could have been and how the Academy body, Academy president Cheryl Boone Isaacs and Oscar producers David Hill and Reginald Hudlin missed the mark.
"As The Great Actor Leslie Odom Jr. Sings And Dances In The Game Changing Broadway Musical HAMILTON, 'I WANNA BE IN THE ROOM WHERE IT HAPPENS! People, the truth is we ain't in those rooms and until MINORITIES are, the Oscar nominees will remain lilly white" – Award-winning filmmaker and activist, Spike Lee
Spike Lee is someone who gets the problem. The severe lack of minorities in power roles in the Hollywood system is disgraceful, and I'll say the same for women. But the key word that Lee used is "minorities" and minorities does not mean just black people. I'm not sure if Lee was using the word in a context that evokes just black people, but I'm going to expand it to include all minorities (including women because in Hollywood, women are a minority). That's where the problem lies.
Where was the outrage when Benicio del Toro was "snubbed" for his haunting role in Sicario or for Oscar Isaac's excellet performance in Ex Machina? Do Latin Americans not count if/when they get snubbed by the Academy? Where's the outrage over the continued stereotypes of Middle Easterners as terrorists? Where's the outrage over the utter lack of Asians in Hollywood? Of Indians? Of Native Americans? That's what the Oscars should have recognized. Instead they made the show about the snubbing of black artists like Idris Elba and Michael B. Jordan who both gave Oscar-worthy performances in Beasts of No Nation and Creed, respectively.
Cheryl Boone Isaacs did the right thing in addressing the lack of diversity when it comes to Oscar nominations by inviting more minorities and women to become voting members and sweeping out older white men with little to no current connection to film – the kind of voters that wouldn't see Straight Outta Compton (which I saw and liked but did not think was Oscar w0rthy – Inside Out, Sicario, Creed, Beasts of No Nation, Ex Machina and more were better films in my opinion ). But she failed to collaborate with the producers and Rock to create the correct narrative during the show, because what DID come out is that this is simply a black/white issue. It's not.
Outside of a few recipients and presenters, most people at the 88th Academy Awards stuck to the black/white script which ironically was extremely exclusive, just what Al Sharpton and Jada Pinkett Smith were boycotting. Boone Isaacs, Hill, Hudlin and Rock had a chance to create a much more inclusive show, one that satirized Hollywood's extreme lack of diversity when it comes to all minorities and women – the fact that you have to go back to 2006 to find an Asian nominated for an Academy Award (Rinko Kikuchi for Babel) and 1984 to find an Asian who won (Haing S. Ngor for The Killing Fields); and 2011 since a Latin American was nominated in an acting category (Bérénice Bejo for The Artist) and 2009 for a win (Penélope Cruz for Vicki Cristina Barcelona); and 1999 for a Native American nominee (Graham Greene for Dances With Wolves – a Native American has never won) is quite the story and bigger than the Idris Elba, Michael B. Jordan and Will Smith snubs this year. In fact, there have been more black nominees since 1990 (39) than there have been Asians and Latin and Native American nominees combined (11). That's the narrative. It's not just white vs. black; it's white vs. all minorities.
And that is where the show failed. That is where Boone Isaacs, Hill, Hudlin and Rock failed. While trying to be inclusive, the show wound up being exclusive to all minorities outside of blacks. At one point Rock said, "And the should have been nominated, Michael B. Jordan" upon introducing Jordan. Why no "And the should have been nominated Benicio del Toro"? Why didn't the show acknowledge the great work of The Revenant's Native American actors? When the cameras cut to those Native American performers sitting in the audience once Leo DiCaprio began speaking about climate change, they seemed like symbols instead of actors. Rock's bits and jokes could have easily included ones about all minorities. During the bit in which black actors appeared in Best Picture nominees, how funny would it have been to see George Takei in The Martian or Sofia Vergara negotiating terms in Bridge of Spies? That's what I mean by inclusive.
This year's show left me with a bad taste in my mouth because it was such a missed opportunity. Let's see what happens when the acting nominations come out for the 89th Academy Awards. Maybe by then we'll have more talk of equal pay for women and black activists will protest the snubbing of all minorities. Perhaps the studios will hire more minorities and women thereby "getting them in the room" as Spike Lee said. And let's hope we see more minorities and women in powerful roles because really, couldn't most lead characters in any movie be filled by actors of any color without it affecting the script?
Now that sounds like a pretty good narrative.