If you've seen a photo of me, odds are I'm wearing a beat-up old Yankees cap. If you've met me in person, I probably was wearing either that hat or a NY Giants cap. Maybe a University of Michigan hat or one advertising my love for Breaking Bad. Maybe you think I'm a die-hard Yankee fan (I was, but not since 2001 when the dynasty broke up and the front office started making all the wrong moves…again). Maybe you think I'm losing my hair (I am a bit). Maybe you think I'm uncouth, unstylish or lazy. Maybe you haven't noticed or thought about it at all even if I feel you have. Now that I've been chosen as a Blog Spotlight Reader at this year's Dad 2.0 Summit, I've been thinking about it a lot because the fact is, I don't know if I can get on that stage without it. My hat is my security blanket.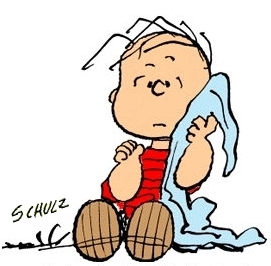 I normally feel uncomfortable in front of people, have felt that way for as long as I can remember, but I feel completely exposed if I'm not wearing a hat, as if someone, anyone can directly see the chaos, self-loathing and anxiety constantly cannoning through my mind. When my head's covered, I feel less naked. Not in control – not by a long shot – but somehow more protected.
I started wearing a hat during day camp when I was free from school and family rules. I was able to slide the brim low so other kids couldn't see my fear, especially when I developed severely emasculating gynecomastia (male breast enlargement that was finally corrected 10 years ago) at age 11 followed by a massive thatch of thick, black back hair (95% of which was zapped away over the past 3 years). I was already being bullied by kids and authority figures and already feeling unloved, cast out and like a failure by the time I started wearing my hat religiously (sometimes carrying it in my backpack and putting it on after school, for instance), but the onset of those two physical conditions forced me to be of aware of my body at all times coupled with a desperate need to hide it. My hat, I felt at the time, made me a little less conspicuous, though the irony is that it became just more bait for camp bullies (cruel games of keep-away, for instance). Even today it giveth and it taketh away. I feel a nagging need to wear my hat to feel better, but I also wonder who's looking at me, who's talking about the freak who always wears that damn battered Yankee cap as people sometimes did in college when I almost never took it off. Sometimes I wonder if my hat's actually keeping me prisoner.
When I first started seeing my current therapist (my 4th and best by far), she asked me to take my hat off during session; I think she recognized instantly that I cling to it. It's been around 6 years and my therapist says I've made enough progress that it's completely my choice regarding wearing it, but still, one of the first things I do when I sit down with her is take off my hat. Sometimes I glance at it longingly and when things get very intense I'll unconsciously reach out to touch the brim that normally shadows my face only to settle for nervously combing my fingers through my hair.
Sienna has no idea why Daddy's always wearing a hat at family functions or when people are visiting or when we're out in public, but she loves to play with it. She grabs it off my head, eyes and mouth all smiles and laughs, and tries to put it back on myself or Elaine. I don't wear it when we're alone in the apartment, but if she sees it she starts yelling, "Hat! Hat! Hat!" and clamors for me to put it on.  My heart aches when she does this. Sometimes with love, but other times with uneasiness because I don't want her to think of me of weak (and yes I know that's irrational).
So will I wear it on stage at Dad 2.0? I have no idea. Can I? That's one of things I've been fretting about. How do I have to dress? I know I'm going be nervous as hell and as I wrote earlier, I'm not sure I can handle going up there without it. When asked his advice on dress, Jason Greene of One Good Dad wrote me that I shouldn't feel scared people will judge me for wearing it because this is a community that doesn't scrutinize. But then I also think about what it might symbolically mean for Sienna should I not wear the hat, should I display that extra courage. Is it enough that Daddy's confronting his overwhelming anxieties by not just going to this conference, but speaking at it? She'll be 22 months at the time. She could care less. And yet I feel like I shouldn't wear it because I'd be setting an example. I want my daughter to look at me as a strong person and father. I never want her to feel the need to carry around a security blanket, particularly when she's nearing 40.
Even if I don't wear it at the podium, I'm sure I'll be wearing it most of the time. If anything it'll be an easy way for you guys to recognize me. Just look for the terrified guy in the old, threadbare Yankee cap.