"Sienna! Time to brush your teeth!"
No Sienna.
"Sienna! Time to brush your teeth!"
No Sienna.
"Don't make me count!"
Sienna solemnly appears in the bathroom, head down, feet shuffling. She hates this. She hates brushing her teeth. She's 3 years old and wants to play and brushing her teeth is an annoyance of epic proportions. I'm sure most of you parents of toddlers have experienced the sudden lethargy when it comes to teeth brushing. It's frustrating for us as much as it is for them. It was especially frustrating for me because Sienna outright refused to do it herself despite wanting to take control of every single activity in her life. I had to stand there and command her to open her mouth, teeth together, stop eating the toothpaste and chomping on the brush. Torture. Pure torture. I couldn't understand it and I needed a solution. Then a friend of mine told me about Firefly®'s Star Wars Lightsaber Toothbrushs and our lives changed. There were 2 choices: a blue Obi-Wan toothbrush and a red Darth Vader. No question. Welcome to family, Darth! I've been teaching Sienna about Star Wars and this toothbrush fell right into my desire to share one of my favorite childhood loves with my daughter.
How did Sienna react? Check it out:
Utter fascination! You press a button and the Dark Sith Lord tells you to join him to complete your training or you just hear his famous breathing. Suddenly you're awash in a blinking red lightsaber complete with the glorious lightsaber sounds. The sounds and lights keep going until it's time to stop brushing at which point Vader tells you that your skills or complete or more importantly, "The Force is with you!" which Sienna always repeats with a wide, gleaming smile on her face.
And most importantly, Sienna DID IT ALL HERSELF!!! I just had to do a quick brushing afterwards to make sure she got all of her teeth for the Tooth Fairy wants nothing less than pearly whites.
Here are some images from Sienna's first brushing with Firefly®'s Darth Vader Lightsaber Toothbrush: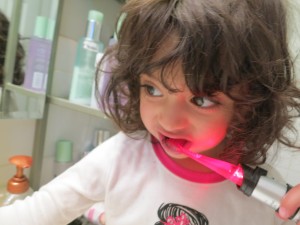 Firefly® gets it. They're able to instill healthy habits and allow toddlers and kids to take control of teeth brushing without them even realizing it. Lights, sounds, favorite characters and play. And it works. It really does. Within a few days Sienna fell in love with brushing her teeth.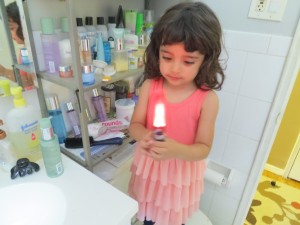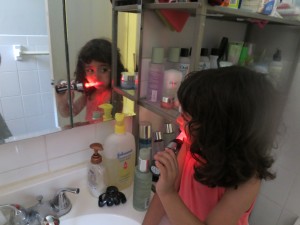 And it's fun for us parents too. I love hearing Sienna talk about Darth Vader, swing her lightsaber and happily say, "The Force is with me!"
To make things even better Firefly®'s running a #BrushBattle Sweepstakes until the end of June. Just enter your info and you have a chance to win a trip for 4 to an awesome California theme park! Of course, if you enter, it means I have less of a chance of winning, but I'll allow it.
So go out and pick up one of these fantastic Firefly® toothbrushes. You won't be disappointed.
May the Force be with you!
Disclosure: The writer was compensated monetarily or via product for this post.