Another morning of awakening to hear Sienna chattering away in her bedroom, singing The Smurfs theme song ("So murf yur elf a griiiiiiiin!"). Sienna doesn't cry for food when she wakes up. She can lie in her crib covering herself with stuffed monkeys and bears and Count von Count and whatever other character she chose to comfort her the night before, jabbering away while I hit the snooze button. I'm lucky that way, I guess. She can be demanding at times, but her imagination and enjoyment of singing allows me a little extra sleep each morning. So it was this morning. Sienna singing, speaking a mix of English and Toddler, me snoozing away. Everything was the same until I opened Sienna's door to a sight that stopped me in my tracks leaving me so stunned I might as well have had cartoon birds circling my head. There was only one thing to do. Grab the camera.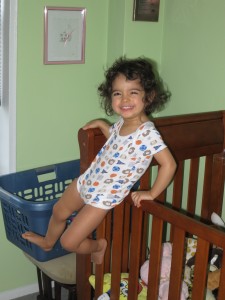 How long was she hanging on like this before I entered the room? Five minutes? Ten? An hour? Elaine mentioned a couple of days before that Sienna had gotten out of her crib, but it was just the one time and I kind of put it away. But now everything changed. Seeing Spider-Girl clinging to the outside of her crib hit me with a dose of RED ALERT!
I pulled Sienna down, changed, fed  and played with her and did all the fun Daddy-daughter stuff we do on a daily basis, but at the same time I worriedly texted Elaine who wrote it was time for the crib to morph into a bed which she took care of once we got home. But it wasn't just the crib that had to change as we had to remove anything Sienna could climb. Bye bye changing table. As Sienna jumped on her new bed, we quickly stuffed diapers, Desitin, washcloths, etc., into the closet.By the time we'd finished rearranging her room it was almost 9:30. We didn't yet have a railing, so we threw a large body pillow on the floor in case Sienna rolled off during the night.
"No more crib," we explained as Sienna jumped on her new bed.
"Crib!" she responded gleefully.
"No Sienna," Elaine said. "You're not a baby anymore. You're a big girl. Now you have a bed like Mommy and Daddy." I'm not sure how Elaine felt about those words, but to be honest, they didn't bother me. I enjoy Sienna not being a baby. I love this interactive phase – the singing and playing, the "Toddlerish" speak. This is the phase I don't want to end.
"Bed!" yelled Sienna.
"That's right!" I said. "Bed!"
Then Elaine put Sienna down for the night and we went headed to our bedroom. I started reading a biography of Jim Henson, but around 11:30 I heard Sienna whimpering and then crying and then screaming. I put down the book and found her walking in circles in the dark, her blanket in one hand, tears leaking from her eyes. Instantly I felt the sickening dread I felt when our cat Zeeb went blind overnight because cancer had spread to his brain – the poor thing yowled in shock and fear when he he tried to jump up on our bed only to leap in the opposite direction. Once more I found a creature lost in the darkness, confused, trying to navigate this massive disruption in her world. Anxiety coursed through my body, but I picked up my daughter, sat in a rocking chair and explained what it meant to have a bed. I rocked and hummed and eventually Sienna fell asleep in my arms and I placed her back in her bed. No further problems.
The next morning I walked in to find the room a mess: stuffed animals and laundry strewn everywhere. I sighed knowing this would be a new part of our routine, but it was ok. Not a big deal. I took Sienna to the local Y for playtime which she loved. Because of my slight agoraphobia and my fear of being judged for being a stay-at-home dad, I don't take my daughter out enough meaning she doesn't get enough socialization. But this day I overcame my anxiety and let her play with a bunch of kids, throwing balls around, climbing an indoor castle complete with a slide, letting her mouth gape open and her arms flail excitedly as a machine sprayed her with bubbles. We then did some food shopping, came home and had lunch meaning it was nap time. And this is when things went awry.
Sienna wouldn't nap. I had no trouble with her talking to herself, but every time a loud BANG blasted over the baby monitor I rushed in to see if she was safe. At one point I discovered she'd climbed onto the dresser and panic crashed through my chest.
SHE'S NEVER GOING TO NAP AGAIN! HOW AM I GOING TO HAVE TIME TO DO ANYTHING FOR MYSELF NOW? HOW WILL I BLOG? WHEN WILL I BLOG? I'LL NEVER BLOG AGAIN! THERE'S NO TIME! THERE'S NO TIME TO READ! THERE'S NO TIME TO CATCH UP ON FACEBOOK! THERE'S NO TIME TO READ EVERYONE ELSE'S BLOGS AND COMMENT! ALL THE PEOPLE I MET IN NEW ORLEANS…ALL MY FELLOW DAD BLOGGERS WILL ABANDON ME BECAUSE I DON'T HAVE TIME TO READ THEIR STUFF IF SIENNA DOESN'T NAP! I'M ALREADY WAY BEHIND! I WANT TO WATCH TRUE DETECTIVE AND HOUSE OF CARDS AND KEEP UP WITH WHAT'S GOING ON CULTURE-WISE, BUT NOW I'LL NEVER HAVE TIME AGAIN! NEVER AGAIN! THERE'S…NO…MORE….TIME!!!
My head swirled. My heart pounded. My chest might as well have been a block of cement.
I called my mom, stuttering that I was on the verge of a panic attack. She came over right away and took care of Sienna while I lay down. Once the physical manifestations begin, it's so hard to get out of an anxiety attack. Once the rational part of your brain is reduced to a whisper, you're lost. There's only one way out for me. Sleep. It's the only way to clear my head. My mom gave Sienna dinner. Then my dad arrived and took over until Elaine came home from work. I slept because I couldn't face my daughter. I couldn't let her see me like this.
Elaine put Sienna to bed and we talked. She told me how I go crazy each time Sienna transitions, but then I find a balance and routine. I stubbornly argued that this time there would be no balance because of time…ever since the Dad 2.0 conference I've felt perpetually behind and now the loss of those precious few hours when Sienna napped? I'd never catch up. Never.
"Just because Sienna didn't nap today doesn't mean she'll never nap again," Elaine assured me, but I refused to listen. It was over. I would forever be behind. I'd never blog again. I'd just found this community in which I felt somewhat accepted and now, just like I'd experienced so often before, they'd  abandon me.
So I created a desperate thread begging my fellow dad bloggers for advice, espousing my fears of desertion, asking how they do it. How do they juggle their time so that they can blog and read other blogs and do things for themselves all while taking care of their child(ren)? Because I have no idea how to do it. I'm as lost when it comes to time management as I am when it comes to calculus, and what kills me even more is that I need to solve this NOW because I'm a perfectionist. I received a lot of helpful responses and below are some examples.
Aaron Gouveia of The Daddy Files: The trick (and I don't know how to get you to this point personally) is to realize you'll always be running at a deficit and be OK with it. You and your contributions are always welcome here and the support isn't going anywhere. Even if you need a week or two away from us. Prioritize on a continuous basis, do what you have to do, and try not to feel guilty about what you're not doing. Easier said than done, I know. But you're a conscientious guy and as long as you keep making sure the important things are being taken care of, you'll be OK.
James Austin of Luke, I Am Your Father:  I hear so many guys here apologize for 'not contributing enough' or 'being gone a week.' Every time. EVERY time, my reaction is 'I didn't even realize you were gone.' I suspect most of the guys would agree. You don't have to be here all the time to maintain a noticeable presence. Don't try to give more than you can. We will all be here the next time you want to check in.
Lee Bodenmiller of Souvenirs of Fatherhood: What I have learned is that achieving perfect balance is a myth. I might even call it a destructive lie. There is no such thing as a single perfect state of time management. Responsibilities shift. Expectations change from different people in your life. New demands pop up while old ones become satisfied or unimportant. The key is to constantly be shifting the fulcrum in your life to what is most pressing and urgent.
Neal Call of Raised By My Daughter: I'm poised to step back a bit, because [blogging is] a seriously deep pit that sucks and sucks at you, and I have a hard time wrapping my mind around all of it. Facebook, particularly, sucks time away. And, even though I've had my little successes over the last year or so, it's pretty clear to me that blogging will probably not be a direct income source. Perhaps it will be a platform for other projects . . . a lot of the guys who are prolific here have older kids or have their younger kids in daycare/pre-school. With a needy kid at home almost all day (which I totally get), I've just had to get comfortable with the idea that a lot of my projects are going to have to wait until my daughter is in school.
Scott Behson of Fathers, Work, and Family: Rule#1 for me is you can't take care of others if you don't take care of yourself- just like the airplane thing- put your oxygen mask on first before helping with others'. At this point (I say this as a PhD is psychology, but without really knowing your situation), I think you need to prioritize yourself and work on coping with your anxiety- your therapist and family are best positioned to help. Don't worry about us. We'll be here whenever you need us.
Eric B of Dad On The Run: I also enjoy reading and watching TV and never have enough time to do all I want, and sometimes not enough time to get what I need done. Prioritization is key. You have to decide how much time you can devote to these areas of your life and stick with it. I don't know any better way of saying it. Don't worry about the group abandoning you or wondering why you haven't read something or commented on something, that's just self-imposed pressure…I chime in when I can and where I want to. I read what I see and what interests me and comment, provide blogging feedback where and when I have the time. We all understand that there is not enough time. When I post something and it gets little or no response then I figure guys have other more important things to do and I get that. Work on that understanding, it's a river. We dip our feet in when we can, we wave at passing boats when we're in it and we handle life when we're not. I've found life in general to become more and more overwhelming as I've aged so I'm trying to be careful to be sure my social media presence is helping me deal with that instead of exacerbating the problem.
I'm so thankful. So thankful. Because I feel less alone. Because they get it. They get me. They get that I feel like I'm drowning in social media, that I'm so scared of not being able to top my Dad 2.0 reading; that I feel this ridiculous obligation to each and every person who stood up and clapped and complimented me in the Marriott hallway; that I'm terrified the dad blogger community will cast me off just because I don't have time to comment on or share one of their blog or write something witty or emotional myself.
Unlike the people in my past, these dad bloggers understand me. Even if they don't suffer depression and anxiety, we have shared experiences in child rearing. We're all trying to figure out how to manage time for ourselves while our children grow and change on a daily basis. Routine is an illusion when it comes to raising children and if you get sucked into one, you're going to be shocked when it changes in a split second. If I don't remember that in my bones I'll continue to suffer panic attacks each time Sienna transitions. I can't let that happen. I have to grow and stop letting my anxiety get the best of me. I have to step back from Facebook and stop feeling guilty if I don't comment on something. I have to stop feeling discomposed if I don't get a hundred comments and "likes" on a blog post. And I have to stop comparing myself to those who are so prolific in the blogging community because the reality is many of them have jobs in addition to fatherhood that allow them to interact with social media throughout the day; others are former or current journalists and have an easier time writing and know the tricks of the trade; and some have older or younger kids that require less attention. None of them will hate me if I I miss a blog here or there or don't hit a "like" button.
If I felt I'd found my tribe at Dad 2.0, after this most recent panic attack and my plea to the dad blogger community, I know I have.
As for time management, I'll figure something out. Maybe my mom will take Sienna for a few hours a couple of times a week. Maybe Elaine will give me some time away on weekends. Maybe I'll cut back on sleep. Maybe I'll have to miss a program here or there. As Elaine says, I'm not Superman. Hell, I doubt even Superman could handle all the things I want to do as well as raise a little girl about to turn 2 who now sleeps in a bed instead of a crib, but I know he wouldn't feel guilty and anxious about it. It's time I don't either.